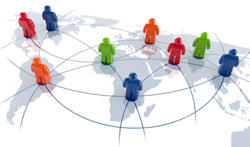 The French School of Public Health is engaged in numerous training and research projects with partners in Europe and in Europe (Germany, Denmark, the Netherlands, Poland, Spain UK), on the American continent (Argentina, Brazil, Canada, Mexico, United States,), in Africa (Algeria, Burkina Faso, Ivory Coast, Marocco, Republic of the Congo) and in Asia (China, Lebanon, Vietnam).
As a general rule, cooperations are formalized by partnership agreements specifying the objectives and fields covered, the roles and responsibilities of stakeholders, as well as the implementation modalities.
Download the list of partnership framework agreements(pdf, 296 kb)
Download the list of bilateral Erasmus agreements(pdf, 195 kb)
View the map of our partners
Green: Partnership agreements (training, research, expertise)
Blue: Erasmus+ European partners – Master Europubhealth
Purple: Erasmus+ Bilateral agreements
Networks

Université Sorbonne Paris Cité (USPC)
The EHESP is a founding member of Université Sorbonne Paris Cité (USPC), a community of universities and institutions which includes 9 self-governing higher education institutions and 5 research performing organisations. The USPC international development priorities are as follows:
International recruitment of PhD students and high-calibre lecturer-researchers
Reinforcement of synergies with existing partners
Better insertion to the European higher education and research area
Implementation of European and international research and training projects
Development of expertise in engineering of responses to European and international calls for tenders
For more information, please visit Université Sorbonne Paris Cité website.
Université Bretagne Loire (UBL) – Rennes International Mobility Centre (IMC)
The Rennes International Mobility Centre (IMC) is part of the Université Bretagne Loire (UBL). The IMC consists of 11 Higher education institutions in Rennes and the Rennes Metropole District Council. The aims dedicated to international development are the following:
Services for international undergraduate and graduate students
Services for international PhD students
Services for international researchers
Development of international mobility among Rennes-based students
Communication / Events management
For more information, please visit Rennes International Mobility Centre website.
The French School of Public Health is an active member of numerous international networks in the fields of higher education and public health :
Published on 25 November 2016