ASPHER President-Elect and New ASPHER Executive Board members elected!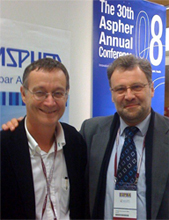 Antoine Flahault, Dean of EHESP, has been elected President-elect of ASPHER at the 2008 General Assembly in Lisbon, 5 November. He will become ASPHER President in November 2009.
More information about Antoine Flahault ideas and beliefs in this document (pdf, 90 ko).
To follow and discuss on EHESP, visit Antoine Flahault's blog, where you can find more information about the author.
As shown in the picture opposite, Antoine Flahault (Aspher's president-elect) and Jacek Sitko (Aspher's president), Lisboa, Nov. 2008.
---
For more information, visit ASPHER's website – www.aspher.org