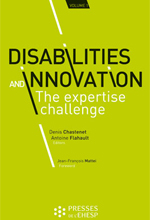 In the 21st century, our country's policy in the area of disability entered a new era, based on solidarity, fairness and autonomy. But though there is a general consensus about the principles, much remains to be done in terms of practices. At any given time, disability affects ca. 10% of the European population, and this percentage is much higher over an entire lifetime. Given the impact of disability on the lives of people and their families, it is an inescapable and multifaceted dimension of all our lives.
Above all, providing good and appropriate care requires expertise. And given the immense diversity of disability situations and the rapid progress in technological, scientific and medical knowledge, this expertise must be updated regularly through training supported by international scientific research, with a strong emphasis on creativity and innovation. It is high time to bring research and practice into alignment. Creativity and innovation are the only possible responses to such challenges.
This book features articles by stakeholders in the disability sector in France, including people with disabilities, policymakers, researchers and professionals, who all have something important to teach us about the needs and challenges we will have to address. Practical solutions are proposed so that EHESP, in providing training, research and expertise, can play a role in changing mindsets, cultures and practices at the European level.