On June 15th, during American Medical Association Foundation (AMA)'s Annual Meeting in Chicago, Andres Felipe Ramirez Zamudio was honored with AMA Foundation Minority Scholars Award.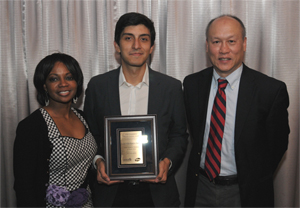 He was one of only eight medical students in the USA selected to receive this award, which was given in recognition of his academic achievement and commitment to the elimination of health care disparities. As an AMA Foundation Minority Scholar, he received a $10,000 scholarship.
Andres Felipe Ramirez Zamudio was graduated from EHESP in 2012 with an MPH in Epidemiology and he is currently enrolled at Ichan School of Medicine at Mount Sinai.
Download the press release (pdf, 21 kb)
Photo : Andres Felipe Ramirez Zamudio with AMA Foundation Board President, Clarence Chou, MD, and AMA Minority Affairs Section Governing Council Chair, Dionne Hart, MD