On January 19th, the EHESP School of Public Health was pleased to host in Rennes a delegation from the Instituto Nacional de Salud Pública (INSP) Mexico composed of Mauricio Hernández, General Director, Laura Magaña, Associate Academic Dean and Liliana Hernández, Program Coordinator.
With the desire to strengthen their links of friendship and existing cooperation, Mauricio Hernández, INSP General Director and Laurent Chambaud, EHESP Director have signed the renewal of the cooperation agreement.
Throughout the next 5 years, this agreement will encourage collaborative activities in the field of public health, particularly in hospital management and health environment.  An action plan will be updated each year within the framework of this French-Mexican cooperation.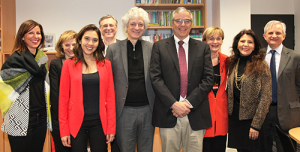 At the same time, the delegation also met professors of the Institute of Management and representatives of the Course management at EHESP.
Contact
Laurence Houari – International promotion officer
Tel. +33 (0)2 99 02 26 94 – E-mail : laurence.houari@ehesp.fr