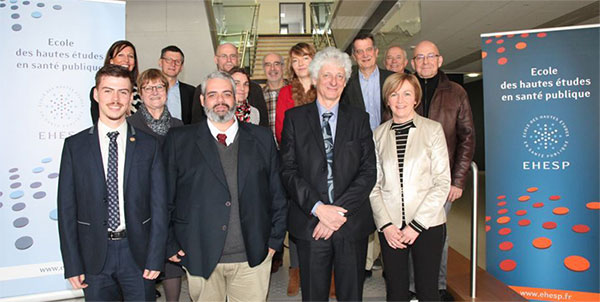 EHESP School of Public Health and Escola Nacional de Saúde Pública (ENSP) Sergio Arouca (part of the Fiocruz Foundation) have been working together for many years on hospital management and implementation of an accreditation system for public health study programs.
On March 7, the EHESP had the pleasure of welcoming at its Rennes campus a delegation from ENSP composed of Frederico Peres Da Costa, ENSP Associate Dean, and Luis Pedro Figueiredo from the ENSP International Cooperation Department. The purpose of this meeting was to seek out further possible collaboration opportunities, especially in the area of health and environment.
During their time here, the Brazilian Delegation met with members of the EHESP Executive Committee, as well as Philippe Quenel, Director of the Laboratory for Study and Research in the areas of Health and Environment (LERES – Laboratoire d'Etude et de Recherche en Santé Environnement). This platform is part of the Environmental and Occupational Health Research Institute (IRSET – Institut de Recherche en Santé Environnement Travail), located in the new facilities of the campus.
A working plan for the period 2016-2017, giving details of areas to be developed, will enrich the existing partnership agreement between both institutions.
Contact
Laurence Houari – International promotion officer
Tel. +33 (0)2 99 02 26 94 – E-mail : Laurence.Houari@ehesp.fr