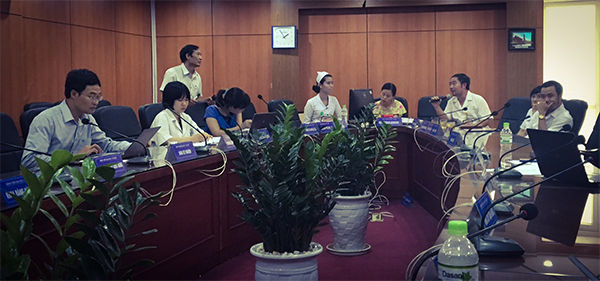 EHESP and Hanoi Medical University (HMU) take further step in their collaboration.
Nathalie Robin-Sanchez (professor, EHESP), Arnold Magdelaine (Manager, Pedagogy Support Centre, EHESP) and Jean-René Ledoyen (Manager, Hospital Nursing Administration program, EHESP) recent return from Vietnam has marked a new stage. This last meeting has put an end to the specific Convention signed in March 2015.
The project has enabled the implementation of a competence based framework for Vietnamese hospital managers and the delivery of management training courses for Vietnamese tutors.
This partnership has contributed towards the optimization of hospital management in Vietnam, an essential step in the Vietnamese health system's rapid development.
The 2 partners now look forward to working towards new projects for 2017.
Contacts
Nathalie Robin-Sanchez, Professor at EHESP Management Institute and Vietnam Project Manager
Tel. +33 (0)2 99 02 28 85 – e-mail : Nathalie.Robin-Sanchez@ehesp.fr
Laurence Théault, Deputy Director of International Relations
Tel. +33 (0)2 99 02 26 97 – e-mail : Laurence.Theault@ehesp.fr