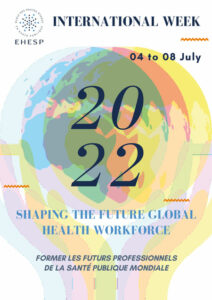 From 4 to 8 July 2022, the EHESP school of public health organises the 5th edition of its "International Week" which brings together students from the Master of Public Health (MPH) and Europubhealth+ as well as its French and international partners. On the programme: presentations, professional exchanges, friendly moments and the traditional MPH & EPH graduation ceremony.
Highlights of the international week
The 5th edition of EHESP International Week begins on 4 and 5 July 2022 with online thesis defenses by MPH students as well as presentations by Europubhealth+ students on the work they carried out during the integrative modules training from 20 June to 1 July 2022. Students then continue with Career Days, on 6 and 7 July 2022, with a series of workshops, conferences and meetings with public health professionals in order to prepare for their integration into the professional world. The week ends on 8 July 2022 with a graduation ceremony opened by Professor Robert Fullilove of Columbia University, specially invited for the occasion.
Download the EHESP International week 2022 programme (.pdf, 844 ko)