The international opening of EHESP School of Public Health is built on three priorities:
Priority 1: Strengthening the international attractivity of training and education
The French School of Public Health offers degree/diploma programmes open to international students with compatible curricula, transferable credits and courses taught in French or English.
In parallel, the School promotes and encourages international mobilities between lecturers, students and administrative staff by establishing special partnerships with a limited number of institutions in order to implement lasting and reciprocal exchange programmes. Lecturers from numerous international universities are invited to contribute to our courses. The School offers students the opportunity to undertake international placements to complete their courses. Students from the school have visited 50 different countries.
The School also seeks to internationalize its human resources by encouraging intercultural diversity – and by placing a high value on lecturers international experience during recruitment.
Priority 2: Contributing to international research in public health
The French School of Public Health is increasing its contribution to international research in public health through its doctoral network, by conducting research with multinational teams, through publications (les Presses de l'EHESP) and the organisation of international seminars. Accredited as an interdisciplinary doctoral network in public health since 2008, and in partnership with 9 French higher education establishments, the French School of Public Health encourages applications from international PhD students, and seeks to develop joint international supervision of doctoral theses. Each year, the doctoral network organises scientific conferences bringing together PhD students and lecturers.
Researchers at the French School of Public Health regularly publish works and articles in international peer-reviewed journals and participate actively in international conferences and symposia.
Priority 3: Developing partner countries human resources capacity in health and welfare services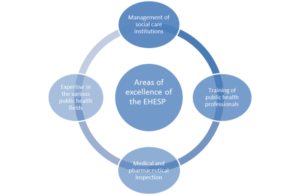 For almost 20 years now, the French School of Public Health has been sharing competences with international partners in international cooperation programmes run jointly by experts  and /lecturers from the French School of Public Health and local institutional partners.
The School offers its international partners support in setting up short and long courses for health and welfare staff, adapted to the needs and context of the country.  The School also carries out expert appraisals abroad, in its fields of competence.
Modified on 12 November 2018