The Management Institute sets out to improve the standard of management of health establishments and the policies in the health, welfare and care fields.
Director and members of the Institute of Management
Roland OLLIVIER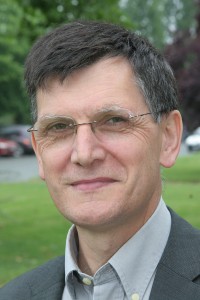 Roland Ollivier has been head of the Institute of Management since April 2010.
He is a former general heath and welfare inspector, being involved in various study, support and inspection missions relating to the implementation of public policies, as well as managing organisations in the health and welfare field.
Before that, he was director of many different types of hospital establishment.
He is now able to use this experience to develop the Institute of Management.
The Institute of Management has adopted a multidisciplinary development policy, bringing together researchers and lecturers in the field. It aims to become a centre of resources for health directors through a range of research programs aiming to transform health organisations and by making full use of the knowledge of the members of its team as well as personnel from associated chairs and affiliated professors.
Members
The Institute of Management is composed of 19 lecturers, 2 pedagogic coordinators and 6 assistants.
Discover the Institute of Management's Team (pdf, 427 ko) and the Who's who (pdf, 592 ko).
Scope – Why does the EHESP need a Management Institute?
Managing the health system well, i.e. improving the quality of the services provided to the people, is the general mission of all those working in the system, whether Directors of state services, medical experts, pharmacists, engineers and inspectors in these services, Directors of health insurance organisations or mutuals, directors of hospitals or welfare or care services or independent health professionals or employed by local authorities.
There has been much discussion in recent years about the quality of the services provided, their accessibility and their cost to local authorities and tax payers, raising the question of how the system and its constituent organisations can be governed.
The laws adopted in France over the past 15 years on the subject have set out to restructure the system with the central objective of quality for all at the "right" price. But discussion and laws are not enough to achieve this.
They do not automatically bring about the changes required in the organisations: the question is how these laws are implemented and the capacity of health professionals and citizens to find the resources required to innovate and change.
They are part of the current situation and it is necessary to determine the consequences by anticipating new developments.
These discussions in France will benefit from taking a broader look at European and international level to benefit from solutions thought up by other countries, allow them to benefit from successful innovations in France and conceive new approaches to health management in a wider context.
The Management Institute aims to help to cross these boundaries:
it must help to accelerate changes at personnel and organisational level by providing training, assistance and consultancy,
it can open up new approaches and prepare for future developments through research and international co-operation.
Partners
The Management Institute works closely with organisation involved in the health system, with those that provide training, expertise and consultancy, those carrying out research and with the professional associations.
The Management Institute also works with universities and engineering schools in France and abroad:
HEC (in the framework of the EHESP's doctoral network),
ESCP EUROPE-EAP,
École nationale supérieure de la sécurité sociale [Higher National Social Security School],
Paris Descartes University,
Rennes 1 University (Master in administration of public health policies and programmes and Master in law, health and ethics),
Montreal University (international master in quality and risk management),
Institut de santé publique, d'épidémiologie et de développement de Bordeaux [Bordeaux Institute of public health, epidemiology and development] (Master in management of medical and care organisations).
New international links are being set up with:
Bocconi University, Milan,
Columbia University, New York,
Wharton Business School, Philadelphia.
Strategic objectives
The Institute is responsible for developing skills and expertise in the management of health establishments and policies (health, welfare and care fields) and is involved in the following domains:
strategy,
human resources management,
finance,
logistics,
operations and technology management,
analysis and governance of systems and organisations,
communication,
quality and risk management,
information systems,
management control and performance evaluation.
The Institute's personnel are specialists in law, economic sciences, sociology, management sciences, information and communication sciences, life sciences and political science.
The Institute of management undertakes research and consultancy on the theme
Changing health systems, organisations and professional practices.
Contact

departement.idm@ehesp.fr
Download the IdM's leaflet (pdf, 812 kb)