The Master in administration of public health policies and programmes is organised by the EHESP and Rennes Political Studies Institute (IEP) in collaboration with Rennes 1 University.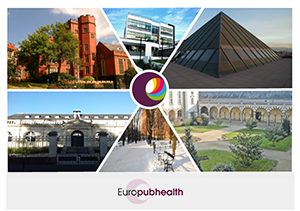 This course is also available through a 2-year double-degree programme with our European partners.
More info: Europubhealth: European Public Health Masters course of study
Objectives
The course is designed to provide the knowledge and skills associated with the growth sector of administering local policies involving health institutions and all those involved in health issues. The course provides students with the ability to :
advise public health decision makers
use the most appropriate information system to analyse a situation
observe and monitor health and welfare developments
set up a network of professionals to undertake public health programmes
develop tools to assess programmes and services and measure their performance
contribute towards crisis situation management
Tuition
Duration: 1 year
Location: EHESP and IEP in Rennes
ECTS : 60
All courses are delivered in French
The course is interdisciplinary, both for students and lecturers. It is divided into two periods :
mid-September to February
A core curriculum comprising six modules
Policies and systems: organisation of health systems, health and welfare policies, regulation, evaluation, accreditation and inspection.
Management: project strategy and management, organisation, governance and partnerships, information systems, financial management and performance measurement.
March to June
Work placement related to one of four specialisations selected by the student
Observation, analysis and decision-making aids in public health
Public health project management
Evaluation of public health policies and programmes
Risk anticipation and action in crisis situations
Job opportunities
Public health engineering and social cohesion policy
Co-ordination of town – hospital care networks
Organisation of missions, audits and evaluation of policies and programmes for agencies, social security bodies, insurance companies and private service management associations and consultancies
Mediators or managers of networks of bodies responsible for health crisis management
Management of health, welfare and care establishments, management of local medical projects,
Organisation of missions at regional health agencies (ARS).
Eligibility
Students with a  Master 1 Governance in the health and welfare sector (Rennes 1) organised in collaboration by the EHESP and Rennes 1 University or a Master 1 or equivalent diploma relating to the specialisation selected
Health professionals wishing to develop their public health knowledge and skills (professional development course)
Students with a Master wishing to add a public health specialisation to their qualifications
Students in their final year at the Rennes Political Studies Institute (IEP)
Public servant students at the EHESP wishing to develop their knowledge of the public health sector within their initial professional studies
Students taking a professional development course who have worked for 3 years in the health, welfare and care domain and wish to consolidate their experience
Applicants with a medical or pharmaceutical diploma.
This Master is in the process of being approved. Those who are interested in taking this Master should check with the EHESP to find out when this course starts.
Applications
Applications for 2018-2019 academic year are closed.
Foreign students
You want to begin or continue your higher education in France, and you live in a country using the Campus France/CEF online procedure? Follow the 2 steps
Contacts

Administration

Régine Mafféi
Tel. : +33 (0) 2 99 02 28 53 – Regine.Maffei@ehesp.fr

Admissions office

Béatrice Roudaut
Tel. : +33 (0) 2 99 02 26 02 – scolarite@ehesp.fr
Published on 15 February 2016